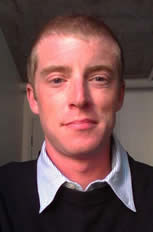 9500 Gilman Dr.
Mail Code: 0533
La Jolla , California 92093
Profile

BS: James Madison University, Sociology and Psychology, 2011

Research Interests: Culture & Cognition, Theory, Knowledge & Science, Philosophy of Social Science, Phenomenology, Sociology of Art

My primary interests relate to the ongoing theoretical development of the practice-based approach to perception, thought, and action. I work particularly closely with the ideas of Pierre Bourdieu and with several anti-Cartesian theories of cognition in the cognitive sciences and philosophy of mind.
Publications

Poulson, Stephen C., Cory P. Caswell, and Latasha R. Grey. 2014. "Isomorphism, Institutional Parochialism, and the Study of Social Movements." Social Movement Studies 13: 222-242.