Contracts & Grants
The Sociology Business Office will provide our Faculty full-scale administrative assistance throughout the award cycle from proposal preparation & submission to award maintenance and closeout.  We will work closely with the Principal Investigator (PI) to produce and submit the most compelling proposal.  The Fund Manager (FM) will work in partnership with the Office of Contract and Grant Administration (OCGA) to provide support for development of large, complex, multidisciplinary research proposals.  
Below is a general overview of the pre-award cycle.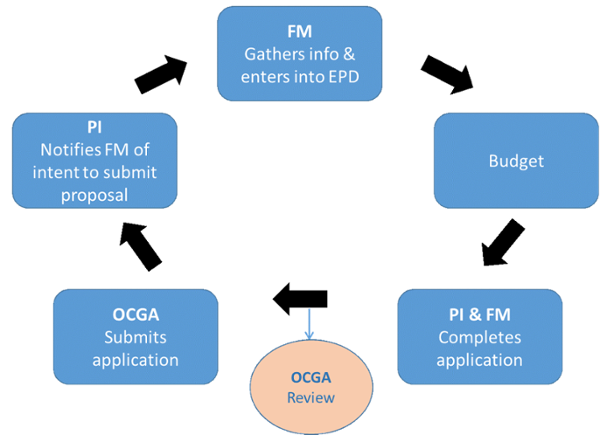 What happens after submission?
Fund Manager notifies PI when official Notice of Award (NOA) is received from OCGA.
Fund # is created specifically for the award
Discuss with Fund Manager on personnel support, major purchases, etc.
Fund Manager monitors spending to ensure expenditures are in compliance.
Award added to PI's MyFunds Reports
Progress reports –
Electronic Certification of Effort and Reporting Tool (ECERT) –

Effort reporting of federally-sponsored projects.
PIs will be notified from Dept to certify.
Proposal Preparation
Below is Sociology's general timeline for proposal preparation and submission.  If timeline is not followed, we cannot guarantee full-service assistance in proposal submission process.  It is suggested you schedule an appointment to discuss details with the Sociology fund manager.
Please review OCGA's proposal submission deadlines to ensure you meet timely submission for proposals.
Important items to consider on submission day:
UCSD standard business hours are 8:00am – 4:30pm.
Submit as early as possible to avoid last minute system issues or delays, particularly during peak submission periods.
Stay by a phone or email until submission is confirmed in case any unexpected issues arise.
Notify Sociology's Fund Manager you plan to submit a grant.

Provide to your Fund Manager:
Agency name
Due Date
Link to funding opportunity, special announcements or forms
Title of proposal
Identify project's proposed start date & number of years
Budget – Identify target annual budget amount and provide list of any personnel working on grant and identify any other categories as needed. 
Fund manager will setup proposal in UCSD's internal proposal system - ePD (electronic proposal database)

If proposal includes subcontracts, provide contact information for each site

Where possible, fund manager will request alternate login access as fiscal contact in either NSF's Fastlane, NIH's Assist, or agency portal
Provide to your Fund Manager:
A rough draft of the proposal (including references, bibliographies, biosketches, as required by funding agency)
Human subjects or protocol application numbers and effective date
Budget justification – fund manager will work with you to provide finalized version
Letters of collaboration (if applicable)
Review draft proposal and sign forms & setup ePD PI Certification
7 Days Before Deadline
Draft application due to OCGA for review.
Fund Manager will inform you of any changes, corrections or suggestions.
3-5 Days Before Deadline
Review entire proposal for submission. 
Provide final version of required documents to Fund Manager.
Day of Deadline
Confirm proposal has been submitted. 
Review submitted application online if applicable.
After Submission
Inform Fund Manager as soon as an award or a declination of a proposal has been received.