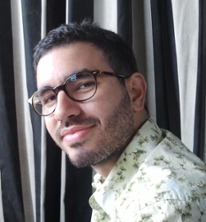 9500 Gilman Dr
Mail Code: 0533
La Jolla , California 92093
Profile
Dissertation
Teaching
Profile

C.Phil.: UC San Diego, Sociology, 2016

MS: Arizona State University, Biology, 2012

BS: Arizona State University, Biology, 2009

 

Research Interests: sociology of science, history of biology, cultural sociology, race and ethnicity

Personal Website:

Tito Carvalho is a Ph.D. candidate in sociology and science studies at the University of California San Diego, and since 2016 he has been a science, technology and society fellow at Harvard University. He has published in both STS and history of science journals in Brazil and the USA, and will soon have a chapter in the upcoming Handbook of the Historiography of Latin American Studies on the Life Sciences and Medicine, to be published by Springer as a Major Reference Work. Tito also coordinates and facilitates the weekly colloquium series STS Circle at Harvard, where he has previously presented some of his work.
Dissertation

Tito's dissertation, "From Race to Racism: Biology, Sociology, and the Nature of Scientific Activism in the USA and Brazil, 1930s to 1980s," examines how different understandings of what race is—a biological and/or social category—have been accompanied historically by different understandings of the role of scientists in society—objective expert authorities who can speak truth to power and/or political actors who can harness science and technology to serve human needs. His dissertation chapters are:

I: A rational framework for what? Race science and steam-less critique

II: A Naturalist in the Land of the Masters and the Slaves: Theodosius Dobzhansky, tropical diversity, and the racial optimism of modern biology

III: New world in the tropics: Gilberto Freyre, racial miscegenation, and the formation of a sui generis Brazilian society

IV: All that is solid melts in the tropical air: Florestan Fernandes and the Marxist analysis of racism in Brazilian society

V: Of no social value: Richard Lewontin and the rejection of biological race in the American Radical Science Movement

VI: Symmetry all the way down: science and technology studies in the so-called post-truth age
Teaching

Tito has taught introductory and advances biology courses at Arizona State University, been a reader for Immigration, Race, and Ethnicity at UC San Diego, as well as a teaching fellow for Technology and Democracy at Harvard University.